By John James Girao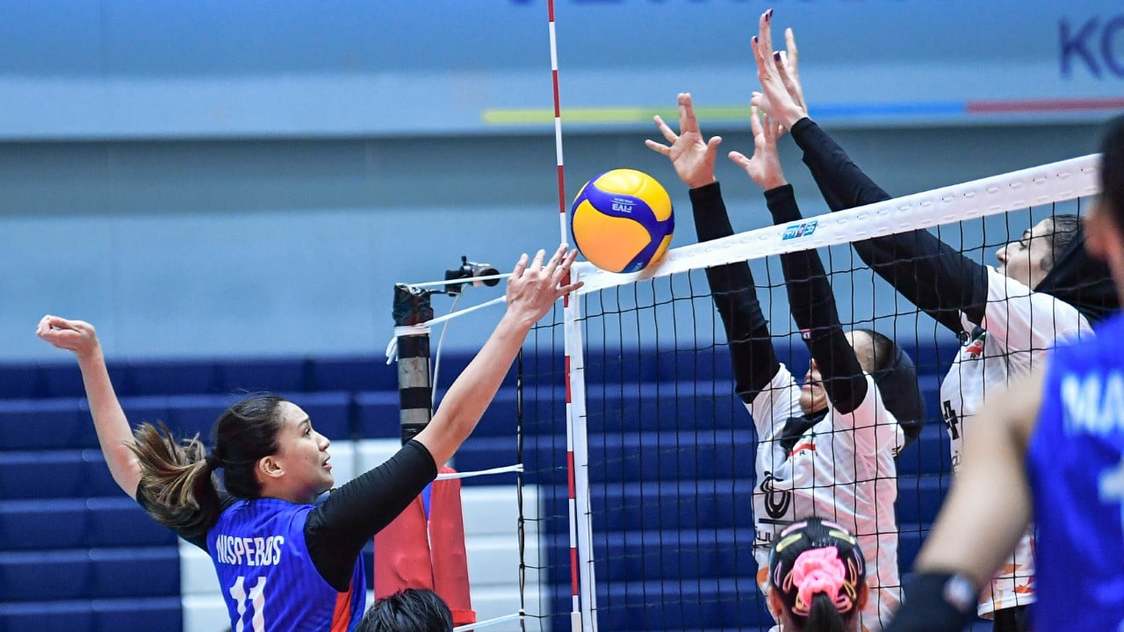 PHOTO: Rappler
Team Rebisco staged its finest game build after finally scoring a set in the regional tournament but still not enough as Saipa Tehran dealt the Filipinas a four-set beating inside the Terminal 21 competition hall in Thailand on Sunday.
Entering the crossover quarterfinals with no wins, Rebisco lost steam in the last two sets after Iranians Mona Ashofteh and Mahsa Kadkhoda's firepower restored order before pulling off a 26-24, 22-25, 25-13, 25-17 victory in its last assignment in the group stages of the 2021 Asian Women's Club Volleyball Championship.
The reigning Iran Super League champion now secured third spot of Group B with a 1-2 slate and will now face Zhetysu VC, which won four straight titles in the Kazakhstani women's volleyball league, in the quarterfinals.
With veteran Aby Marano making her debut, the Pinays had an opportunity to cap off the opening frame, after cruising to a 24-23 lead off an attack error by Saipa. But the Iranian squad answered with a mini 3-0 run, plugged by a power tip by Kadkhoda, to seal the opener.
However, a different story happened in the second set as the Filipinas made sure not to fold this time in the second set with Dindin Santiago-Manabat joining hands with young guns Faith Nisperos and Mhicaela Belen to put the match on even terms, 1-1.
The Philippines, though, collapsed in the third frame after the unsuccessful mid-rally challenge for a net fault that made the momentum shift to Saipa. The Iranians mounted a massive 12-2 spurt that eventually tallied a lopsided set win, 25-13.
Shooting for its first win in the tourney, Saipa did not let the Pinays go for any comeback as they raced to a 22-14 lead late in the fourth set.
Eya Laure, who was also seeing her first action, nailed two straight kills to put Team Rebisco within six, 23-16.
Ashofteh, however, then responded immediately with a denial on Laure to put her squad at match point before she put the icing on the cake off a strong down-the-line kill, 25-17.
The Indian duo of Ashofte and Kadkhoda erupted for a 48 point combination as Zare Pouran chalked in 11 markers.
Meanwhile, Santiago-Manabat spearheaded Rebisco with 17 points on 14 attacks, two blocks and one service ace as Belen and Nisperos cashed in eight points apiece in the loss.
Rebisco closed out the preliminaries as last in Pool B and will take on Pool A top-seeded and host team Nakhon Ratchasima in the do-or-die quarterfinals on Monday.