By Raymond Lumagsao
It's been a week after 'Gaya sa Pelikula' dropped the much anticipated finale which made abuzz online following critical commendations from the queer community, allies that are learning to properly navigate the allyship. Not only did the series successfully represent LGBTQIA community and empower them as a marginalized sector, 'Gaya sa Pelikula' turned out to be a story not only the gay community would appreciate. Apparently, the writer and creator Juan Miguel Severo mastered to draw his audience, especially non-allies and lead thm to realization how a society of bigots can cause jeopardy among queer people; that the more it imposes backward myths, the more it would demand unnecessary loss.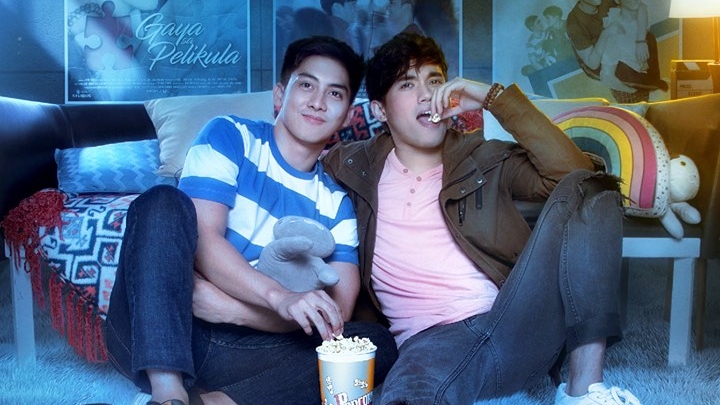 Photo:
rappler.com
Initially, the series targeted to display brewing love story between the character of Karl Frederick Almasen and Vladimir Austria played by Paolo Pangilinan and Ian Pangilinan respectively. From the get go, the story build-up has easily drawn the audience's attention with the undeniable chemistry of the lead characters and while everyone is keeping up, Severo took the opportunity to educate by inserting in the script normalized harmful acts, treatments among gays making it extra painstaking for the community to forward. For instance, referencing homosexuality as an insult and not directly calling it the way it should be called is not known an attack. Some people may have gotten it-euphemisms of being gay-but the question is, had there been any chance the practice was corrected? Microaggressions have never been put into complete context until 'Gaya sa Pelikula' among any materials has went above and beyond to put a light on every little detail that is often barely understood by the members themselves.
For Severo, representation alone can go miles to forward the struggles of the community thus, the overwhelming rise of boy love series in the country should be deemed positive. The argument however is challenged as to how capable the representing material would stick to its purpose to liberate a sector from backward beliefs. Discovering the manner of storytelling 'Gaya sa Pelikula' has turned into, it is safe to argue that while representation is pushed, the education should continue more than any petty priorities in creating a piece that is an advocacy in the first place.
The pilot season of 'Gaya sa Pelikula' basically revolved around Karl being susceptible to prejudice which explains his fear of coming out, thus failing to meet Vlad outside his closet. The romantic themed series came through by presenting the fact that flawed views among gay people have caused them fear to love, or worst fear to recognize it. It openly embraced validation of the gay people along with their entitlement to truths. Relevant advocacies such as safe sex, regard to someone's consent, and many other pressing themes were given enough emphases. Patriarch system that problematically measure men's strength has indirect manifestation over Karl's challenged relationship with his parents.
Meanwhile, any communication professional would barely miss to associate rise of boy love stories in the Philippines with the popular media agenda-setting theory. Although the media theory remains heavily debated, now that there is quite a volume of materials that gauges discussion about LGBTQIA community, it is with hope that it translates to chambers of legislation to finally heed the call to pass into law the Anti-Discrimination Bill with SOGIE in it. Thus, while it is an opportunity to further the discourse, it is testing for artists, writers, and the audience to remain critical to ensure a piece that is all-encompassing per se.
But what is the chance a piece of art is perceived in a definite manner? At the end of the day, arts is subjective, as the Severo would say. One can represent the other, one can build another or destroy it. It may be completely disheveled at times however, there is one way regardless of its manner that binds arts together. It is not meant to be understood after all. What matters about 'Gaya sa Pelikula' for example is how it can alter people's emotions and how would people transmit it to the world.
To end, it is remarkable that despite the production of first season confronted quarantine restrictions that could inevitably limit the quality of the story and the final material, the direction of JP Habac worked well with the sharp writer that Severo has become. The sequences may have been fast-paced but the plot turned out to be well-executed. The casting couldn't be any more genius either as every actor integrated to their characters without effort. Even the dialogues alone are enough to put 'Gaya sa Pelikula' atop. With its on-point music scores and addicting soundtracks, the deal is sealed easily.