By Girald Gaston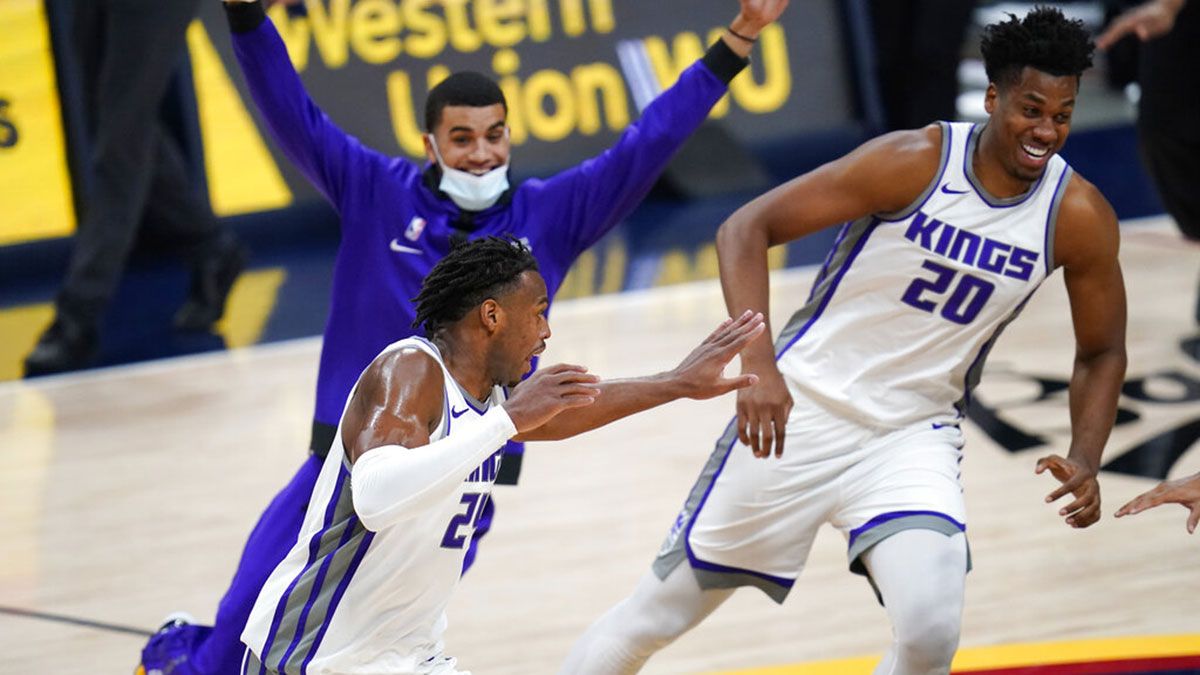 Kings celebrate victory after Buddy Hield's clutch tip-in against Denver Nuggets (PHOTO: Spin.PH via AP)
"A good leader is a great follower."
Buddy Hield made a crucial putback at the horn off Harrison Barnes' miss, to lead Sacramento Kings' rally over West contender Denver Nuggets in overtime, 124-122, Wednesday night at Pepsi Center, Denver.
Barnes stole the ball over the Nuggets' hero Nikola Jokic with 6.5 ticks left in regulation, and took off for a 4-foot jam but was bothered by Will Barton's defense. Trailing Hield tipped the ball in exactly at the buzzer, and rushed into the locker room along with his teammates for the celebration.
Hield led Sacramento with 22 points, while Barnes and De'Aaron Fox each added 21 for the Kings, who snapped a six-game skid in Nuggets, where they had last won on Jan. 3, 2017.
After facing a seven-point haul at the end of the half, 53-60, the visiting squad made a run in the third frame to turn things around. They outscored Denver, 36-24 in that quarter to carry a five-point deficit heading into the last chapter, 89-84.
Aside from showing their offensive prowess, Kings was also successful in defensive end as they kept the last season's bubble star Jamal Murray at bay. Sacramento head coach Luke Walton praises his team for the tight defense on Denver's main man.
"I'd be lying if I told you our defense had a lot to do with that," Walton said. "When you're as good as Jamal Murray and you have a shooting night like that, that's more him having an off-night. Now, I give our guys credit for competing and making it hard for him. But he sees that every night.
Nuggets star Jamal Murray was held to five points and was shooting 1-for-9 before he fouled out late in regulation. Jokic had a big night with his familiar trip-dub, tallying 29 points, 15 rebounds and 14 assists, while Michael Porter Jr. added 24 points to fill the gaps on host team's offense.
Before the match, Denver coach Michael Malone was asked if Murray could be the same man that he was on bubble, and he took it as an opportunity to talk about how the team's first trip to the Western Conference Finals in a decade last summer already part of the past.
"As great as last season was -- I'm going to keep saying this -- that season is over," Malone said. "That was a different team. Yes, we have our core back, but we have seven new players. As great as it was to win our division, to get to the Western Conference Finals, to comeback from two 3-1 deficits; starting tonight, who cares? That's over."
After the game, Malone addressed the Kings' 36-24 third quarter as part of Denver's meltdown, and Jokic agreed, saying, "We relaxed. We played a really good first half. They came out of (halftime) really aggressive with a lot of energy and picked up the tempo of the game. We didn't match it."
Kings will have their first home game on Saturday against Phoenix Suns, while the Nuggets will have a rematch against their last season's conference semifinals foe Los Angeles Clippers on Denver.
RELATED ARTICLE: https://bit.ly/2WKVJV2