By Girald Gaston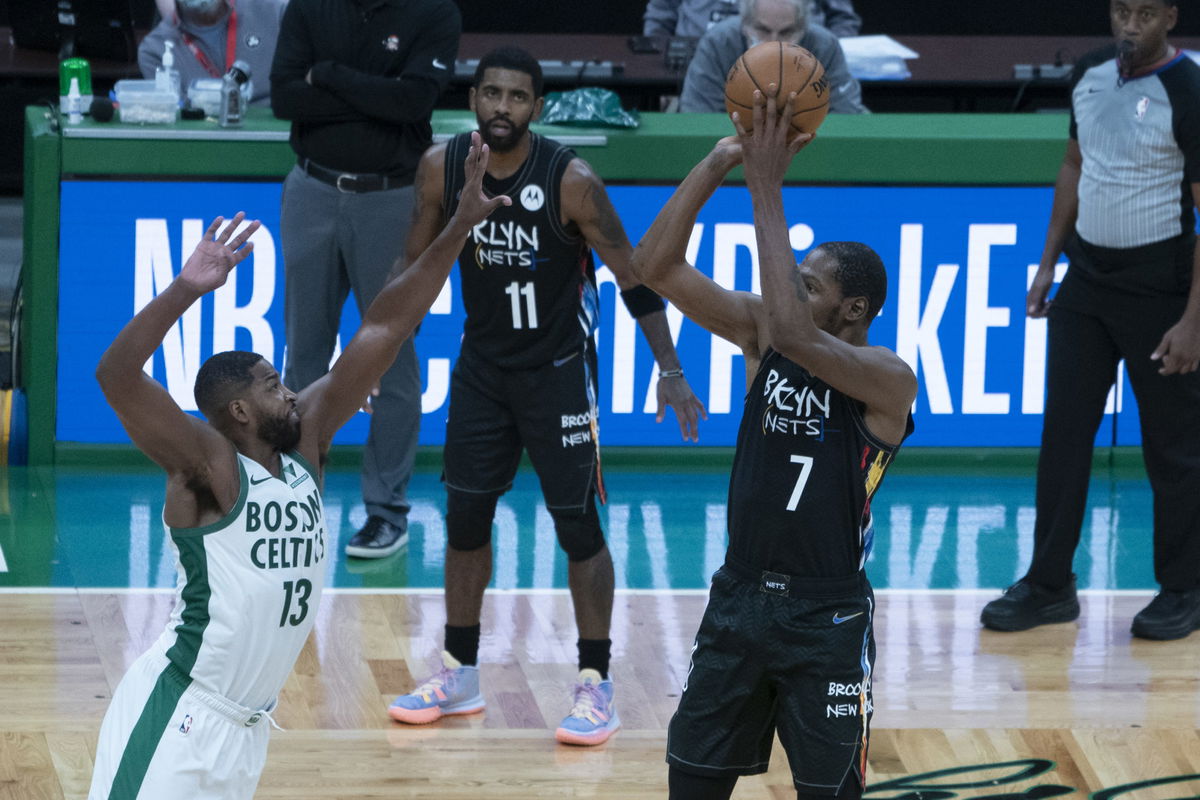 Nets stars Kevin Durant and Kyrie Irving and Celtics center Tristan Thompson (PHOTO: Essentiallysports)



Doubted before the season on how they would gel with each other, Brooklyn's number seven Kevin Durant and number 11 Kyrie Irving just know how to win games with less effort.
The 7-11 duo displayed another stellar performance to spearhead Brooklyn Nets' rout over Boston Celtics, 123-95, Friday night at TD Garden, Boston.
Irving was dominant in his return to Boston, as the former Celtics scorched for 37 points and 8 dimes. Kevin Durant chipped 29 points, 16 of this came from the pivotal third frame that secured another 25+ point blowout for the Nets.
"We're going to continue to see them. We're in the same division," Irving said, as he also stated that there was "nothing added" to his motivation in playing his former team.
Aside from preseason, where stars are just playing limited minutes just to condition themselves, Kyrie and KD hasn't played heavy minutes yet due to their domination in each regular season game. The two averaged just 29 minutes through the first two matches, and two minutes in the payoff final period.
Durant blossomed in the third quarter after a nine-point first half, as he tallied 16 points in Nets' 35-23 quarter against Celtics. He scored nine straight markers with 4-of-4 clip at the start of second half, as the Nets took the lead for good after three chapter, 86-77.
"It's still impressive to watch after all these years," Nets Head coach Steve Nash said. "For him to have little runs like that is nothing in his mind. For mere mortals in the NBA, it's impossible to think of."
The score was 86-79 early in the fourth when the Nets, with Irving and Durant on the bench, unleashed a 9-0 blast to take a commanding 16-point lead. The tandem checked back again at 7:08 mark to put the finishing touches, and Irving cashed in a triple to extend the lead to 24, 116-92, with 2:39 left en route to victory.
Jaylen Brown led the visiting team with 27, along with eight rebounds while Jayson Tatum added 20 points and eight boards for the Celtics, who missed the service of its guard Kemba Walker. Even if couldn't do what they did in clash vs Milwaukee, Boston's backup guard Marcus Smart pointed that the game will help them.
"The benefit of playing these two games against two other great teams is that it forces you to be better," Smart said. "It tests you to see where you're at, it sets the bar, and now you know what you have to strive for."
Nets will play Charlotte Hornets next on Sunday, while the Boston will battle against Indiana Pacers twice at Indiana.
RELATED ARTICLE: https://bit.ly/3hkw52S