By Elyjah Rosales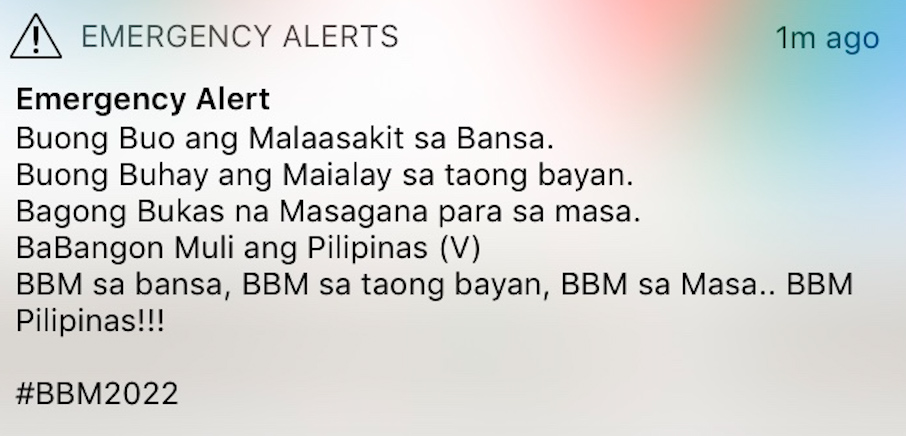 PHOTO: ABS-CBN
Former senator, vice presidential loser, and dictator's namesake Bongbong Marcos was quick to dismiss on Thursday his affiliation to the emergency messages sent amid his presidential candidacy filing.
According to an interview with CNN Philippines, multiple-time electoral protestant Marcos said doing this would only put him at a disadvantage.
"Beyond illegality, if you didn't think about it in political terms, this is of no advantage to me," told the former senator.
He added that even his camp also received the same texts bearing the hashtag #BBM2022.
Supporters were asked about this as well but they likewise shrugged this off, as per his team's investigation.
This puts Marcos on a wait for the progress of the National Telecommunication Commission (NTC) probes regarding this.
For NTC Deputy Commissioner Edgardo Cabarios, these messages are possibly from "portable cell sites" that need time for confirmation.
Meanwhile, Bayan Muna Partylist Representative Neri Colmenares stated that this shows how the Marcoses' "greed to return to Malacañang" if proven true.
Colmenares called this an "ill-gotten airwaves" adding up to the family's "ill-gotten wealth."
It is remembered that the Bayan Muna representative principal authored Republic Act No. 10639 that mandates NTC, National Disaster Risk Reduction and Management Council, Philippine Atmospheric Geophysical and Astronomical Services Administration (PAGASA), and Philippine Institute of Volcanology and Seismology (PHIVOLCS) to send text advisories for disasters and calamities.
"If they indeed hijacked the Bayan Muna-authored law for emergency alerts, then they should be investigated. When we authored the bill my intention was to help save lives. Not to be used for vested personal interest of politicians," asserted Colmenares.