By Christian Niturada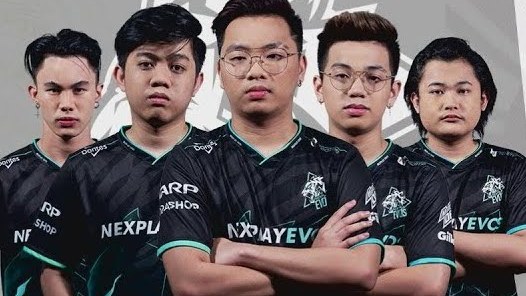 PHOTO: Rappler
NXPE just waxed hot to end their team's dry spell on a high note.
Nexplay Evos demonstrated their depth as they sent RSG PH packing with a 3-0 win in their best-of-five series on the first day of MPL Philippines Season 8 playoffs, today.
NXPE, led by team captain Jeniel "Yellyhaze" Bata-anon, managed to close out the series early as the tenacious RSG team attempted to wrap up games two and three, but Nexplay's comeback game was too much to handle.
Coach John Michael "Zico" Dizon and analyst Neil "Midnight" De Guzman drew out a comprehensive lineup to open the series for Nexplay side, which included the iconic Jawhead and Eudora combo, as well as Lapu-lapu, Natan, and Yi Sun-shin.
Meanwhile, RSG's Coach Brian "Panda" Lim went to a sustained line up with Paquito, Lunox, Rafaela, Kimmy, and Lancelot.
NXPE played with a lot more discipline than before, executing a good early rotation, thanks to Tristan "Yawi" Cabrera's Jawhead paired with Yellyhaze's Eudora, who controlled the early game to allow John Paul "H2WO" Salonga's Yi Sun-shin to farm.
Nexplay Evos continued to make the most of their strong draft, getting objectives after objectives to push the newcomers RSG closer to their base.
With the second lord on their side, NXPE called for a team fight, getting RSG's core Cedrix "Demonkite" Caranto's Lancelot in the river side, while EXP laner Nathanael "Nathzz" Estrologo went towards the NXPE's backline, killing two of its members.
RSG PH attempted to defend their base turret after the long skirmish, but Nexplay made a lock to the tower, capturing the first game with an 11-5 kill team score and Yawi receiving MVP for a perfect 0/0/9 KDA.
Nexplay continued to use Yi Sun-shin and Natan as double marksmen, as they did in game one, while also acquiring Yawi's iconic Khufra, as well as Estes and Thamuz.
On the other hand, Demonkite's Paquito played as the jungle, while redrafting the Kimmy pick along with Esmeralda, Kagura, and Ruby.
The Panda-mentored team started the second game aggressively, grabbing all four turtles, which led the Demonkite's Paquito to snowball.
RSG PH maintained their composure until the near late game, but rookie Jhonwin "Hesa" Vergara's Natan showed that he was an important part of his team by getting two clutch kills to Arvie "Aqua" Calderon and EJ "Heath" Esperanza, paving the way for them to end and take the 2-0 lead, with Hesa's 4/1/7 KDA earning him MVP honors.
NXPE again secured the Natan pick for Hesa along with Barats, Mathilda, Lapu-lapu, and the jungle Paquito, while RSG went for a Lancelot, Yve, Ruby, Brody, and Thamuz.
In the early minutes of game three, both teams became more aware of their map, playing it conservatively, but RSG finally gained the lead following a Real World Manipulation set up by Aqua's Yve, giving RSG the room to secure the lord.
Each team went for another lord dance in the 21st minute of the game, resulting in a clash, however Hesa's Natan stole the lord, while his colleagues were killed by Christian "Iy4knu" Manaog's Brody
RSG took advantage of NXPE's three-man downed to take out all of the turrets, but the latter was able to hold its base, forcing both teams to wait for another lord.
Renejay "RENEJAY" Barcarse's Lapu-lapu successfully used his split push plan with Hesa to destroy the bottom turrets, causing RSG to be confused in capturing the lord.
Three RSG men tried to pick them off as Hesa and Yellyhaze went for a minion clearing in the bottom lane, but Hesa and Yellyhaze managed to survive, allowing H2WO and Yawi to open the top lane.
Nexplay Evos immediately called for a team fight in the near lord pit, which resulted in RENEJAY's Lapu-lapu death in exchange for Aqua, Iy4knu, and Nathzz, bringing the series to a close with H2WO's 6/3/6 KDA, which earned him MVP, and Hesa's 5/0/7.
Nexplay Evos won a final four position and a match against regular season's second seed ONIC Philippines in the upper bracket on Friday, while RSG exited with a prize pool of US$ 2,500.