By Christian Niturada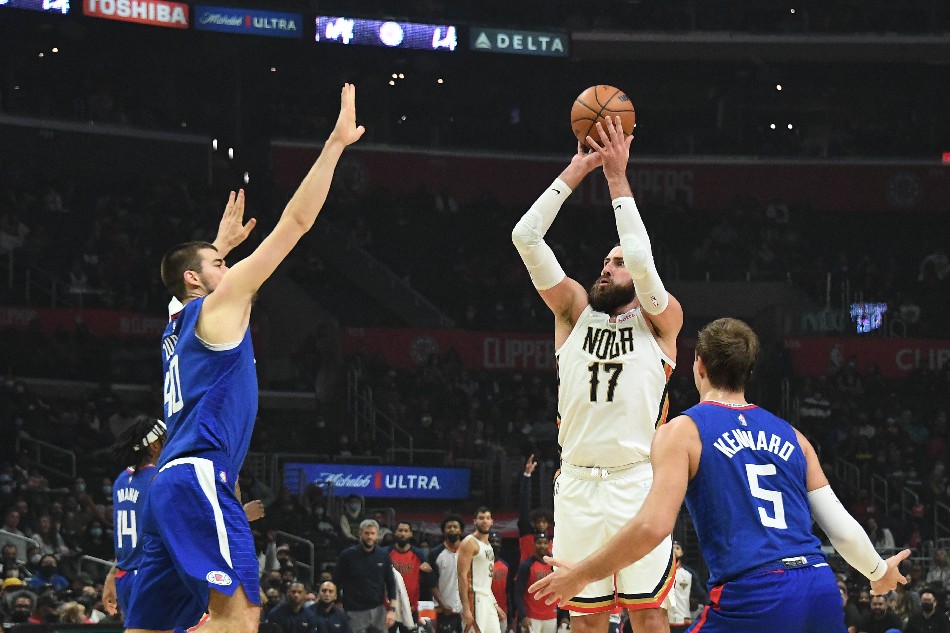 PHOTO: NBA Photos
Jonas Valanciunas set his new career-high with 39 points as the New Orleans Pelicans stunned the Los Angeles Clippers for the second time, 123-104, at the STAPLES Center, on Tuesday, November 30.
The Lithuanian veteran Valanciunas had a spectacular first-half effort, scoring 29 of his 39 points, along with 15 boards and three assists.
Valanciunas also dropped 26 points and grabbed 13 boards as the Pelicans triumph over the Clippers in their first encounter, 94-81.
Brandon Ingram had a nostalgic feeling in his former home arena, delivering 27 points while Herbert Jones added 16 that helped New Orleans recover from their loss to Utah, ending their three-game road trip with two wins.
After a poor shooting beyond the rainbow area against Utah, the Pelicans lit up 10 of their first 18 3-point attempts in the first half, with seven of those coming from Valanciunas, allowing New Orleans a 21-point lead at halftime.
Paul George attempted to cut the margin to eight for the Clippers midway through the fourth quarter, but Ingram registered eight points in the canto, sparking a 17-8 run that kept New Orleans from collapsing.
George failed to double his effort for the Kawhi-less Clippers, notching 27 points while Reggie Jackson added 19, worsening their slate to 11-10 win-loss.
After a 3-16 start without injured Zion Williamson, the Pelicans have won three of their last four games, increasing their season victory total in the last six days.
New Orleans' top forward has been cleared to resume full basketball activity, bolstering the team's chances of turning things around.