Bongbong no-show at DQ case proceedings, irks Comelec's Guanzon
By Rjay Zuriaga Castor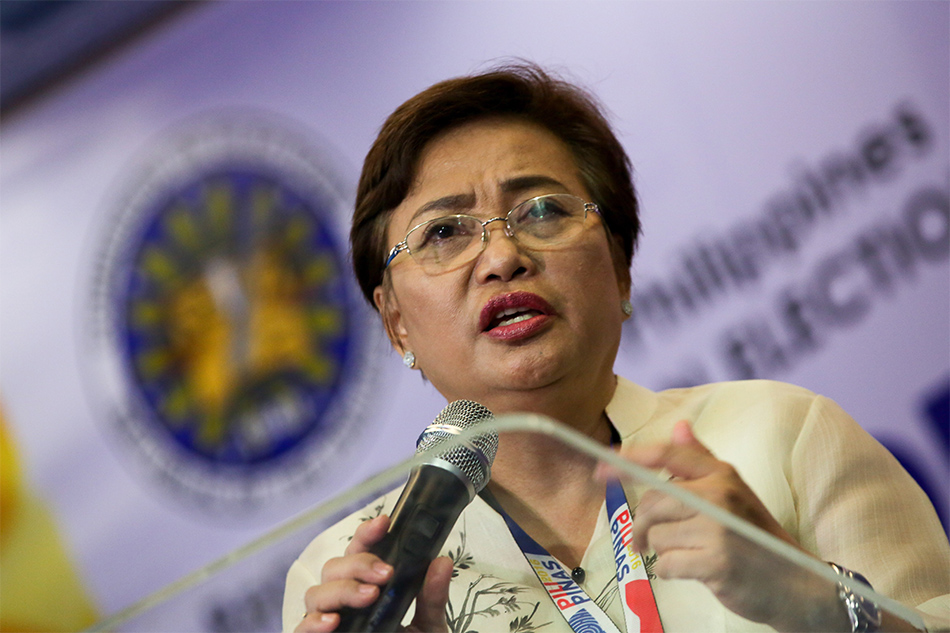 PHOTO: ABS-CBN News
Commission on Elections (Comelec) commissioner Rowena Guanzon, known for her no-holds-barred questioning feisty personality, irked former senator and presidential aspirant Ferdinand "Bongbong" Marcos Jr. absence in the hearing of his three disqualification cases.
"Hearing cannot begin. We are waiting for the medical certificate of Marcos Jr. to prove he is not well, hence he is absent," Guanzon said in a tweet Friday morning, January 7.
Hearing cannot begin .we are waiting for the medical certificate of Marcos Jr to prove he is not well , hence he is absent. https://t.co/0Jd4boaP5L

— Rowena Guanzon (@rowena_guanzon) January 7, 2022
The disqualification hearing, scheduled at 9:30 AM, was delayed for an hour because Marcos' camp failed to immediately present a medical certificate proving the presidential aspirant's non-appearance.
Attorney Hanna Barcena, Marcos' legal counsel, said that the late dictator's son cannot attend the hearing even via Zoom because "he is not feeling well."
Meanwhile, Attorney Vic Rodriguez, Marcos' spokesperson, disclosed that the former senator is currently in isolation as he was exposed to two individuals who tested positive of COVID-19.
"Bongbong Marcos was initially exposed to his chief security, who has been [sic] confined in one of the isolation/quarantine facilities since last Tuesday and subsequently to me," Rodriguez, who also tested positive, said in a separate Viber message.
Guanzon, unconvinced of the proposition, said Marcos, who is just in quarantine, should still be present in the hearing, citing that he can leave the scene as long as the screen is open.
"He is sick. Okay, where is his medical certificate? Why was it hard for [former] senator Marcos to go on video? He can do that on his phone," she remarked.
Guanzon, who presided over the preliminary conference, warned Marcos' camp of the consequence of the former senator's absence.
"Do you know the consequences under the rules if your client is not present during the preliminary conference? It will be submitted for decision without his evidence," Guanzon warned Barcena.
In the later part of the deliberations, a medical certificate from Marcos' physician was provided, which indicates that the presidential aspirant had a low-grade fever and a "painfully congested throat" on Thursday, January 6.
"Upon examination, he had a temperature of 37.8 degrees Celsius and his throat was swollen. He reportedly had direct contact with at least two individuals who later tested positive [for COVID-19]," the medical certificate reads.
Issues raised during the hearing include Marcos' 1995 tax conviction — the forefront of most of the petitions against his presidential bid, and whether he paid fines and deficiency tax for the conviction.
After the grilling of lawyers over issues presented in the case during the preliminary conference, Guanzon ruled that the first disqualification case filed by Abubakar Mangelen who claims to be the "duly elected chairman" of Partido Federal ng Pilipinas (PFP) is now "submitted for resolution."
Mangelen stressed that PFP's issuance of a certificate of nomination of acceptance to Marcos was "unauthorized, defective, invalid and void." Marcos filed his certificate of candidacy as the standard-bearer and the known chairman of the PFP.
Meanwhile, other two disqualification cases filed by martial law survivors led by Bonifacio Ilagan and Akbayan Citizens' Action Party were also tackled in the hearing and have been consolidated, which means that both petitions will have a joint decision.
Comelec's First Division, who handled the three disqualification cases, gave the petitioners of the two cases and Marcos' camp until Sunday, January 9 (48 hours), to submit their memoranda or final position papers via email.