Duque: Duterte's leadership, Pinoys' compliance led to PH's lower COVID cases vs rest of Southeast Asia
By Deighton Acuin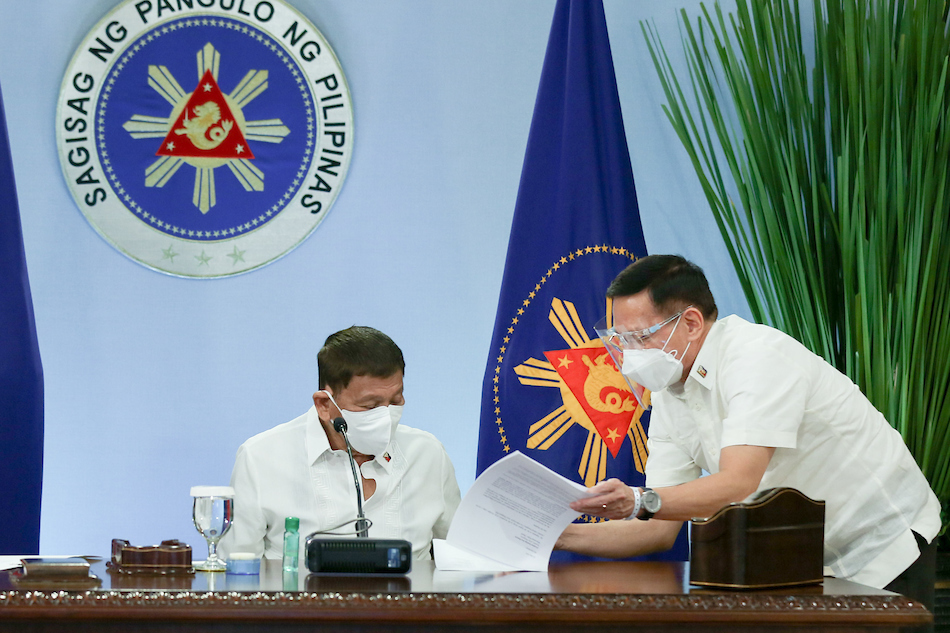 PHOTO: ABS-CBN News
For Health Secretary Francisco Duque III, President Rodrigo Duterte's leadership and Filipinos' strict compliance in minimum health and safety protocols have led to the Philippines' lower number of COVID-19 infections in Southeast Asia.
"Sir, one differentiator we have compared to many of these countries, I should like to believe, is our very good compliance to minimum public health standards — Filipinos were wearing masks," Duque answered when asked by Duterte during his presentation why the country is now having lower infections compared to that of Singapore.
"They were really following [the rules], Mr. President, unlike the others… especially when already had high vaccination rate, they just threw caution to the wind. So I think that is one distinct difference that we have manifested compared to other countries in Southeast Asia," he added.
The second differentiator, according to the health chief, is the president's consistency of public reminders of observing safety measures: "I think your leadership has been good — in your weekly reminders to the public. And they have seen consistency in your reminders, and they are appreciative by way of a more disciplined compliance with our minimum health standards."
Furthermore, Duterte questioned the graph presented by Duque in which the Philippines had 8.82 cases per a million population, which is relatively higher than Singapore (3,237.55), Vietnam (1,366.39), Malaysia (845.10), and Thailand (362.59).
In his initial response, Duque said that vaccination has been a factor for such decline. Duterte, however, said that other countries can procure more life-saving jabs.
"The number of their cases will also go down. We just had a spike earlier last January. And our cases started to go down until today. In fact, our reported cases for today are only 70. This is the fifth straight day that we have reported below 1,000 cases per day. So the next reason, Mr. President, is the protection from natural infection — natural immunity," the DOH secretary said, referring to the Omicron variant surge.
"Remember, Mr. President, we've had about five surges already, including the most recent which is Omicron. And this means so many of our countrymen have already been infected. But luckily, most of our infections were mild. And there were those who were asymptomatic. And both, in fact, account for 92 to 94 percent of all our cases," he added.
The country has been observing a decline in infections after the Omicron-driven surge that lasted until the end of January, with the Inter-Agency Task Force for the Management of Emerging Infectious Diseases (IATF-EID) placed Metro Manila and other nearby provinces, cities, and municipalities placed under Alert Level 1, the most lenient measure since the government adopted the alert level system, until March 15.
As of March 8, the DOH posted 3,669,710 total infections in which 47,867 are active cases, 3,563,771 are recoveries, and 57,072 are mortalities.
In terms of vaccination, 136,163,623 COVID-19 doses have been administered as of March 7, with 61,757,780 as a first dose, 63,789,608 as a second dose, and 10,616,335 as a booster shot.
Edited by: Phylline Calubayan