ECHO extends streak to 5; Blacklist, Omega kickstart resurgence
By Akio Mananes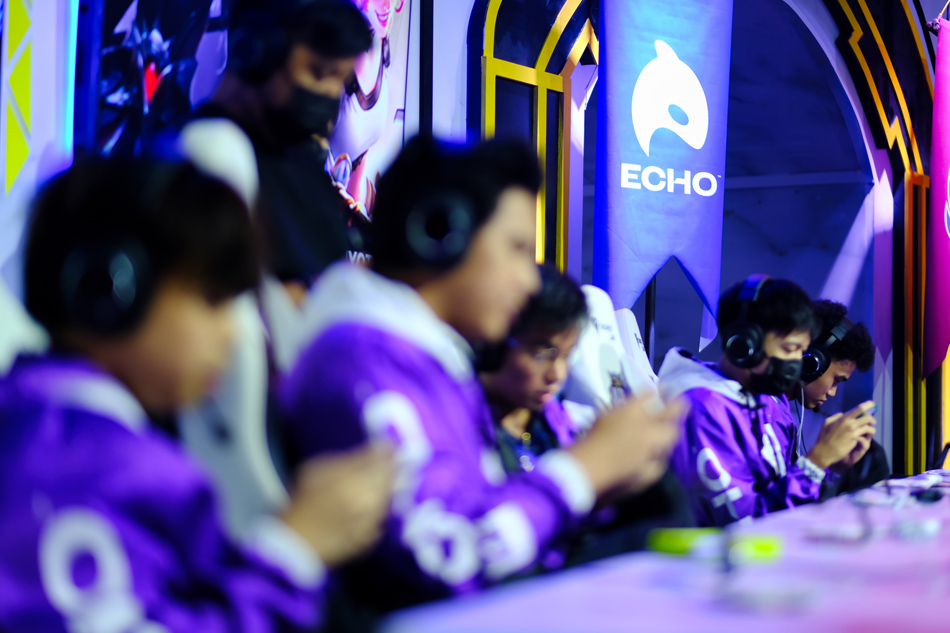 PHOTO: ABS-CBN
MANILA — Loud and proud ECHO continued their winning spree at the expense of RSG PH, as Blacklist International and Omega PH slowly found their groove in the third week of the MPL-PH Season 9, Saturday.
ECHO captured their own kind of resurgence against Resurgence PH as Karl "KarlTzy" Nepomuceno wrought havoc for a lord contest, dismantling RSG's momentum with two crucial pickoffs in exchange for the lord that turned the tables around.
Benedict "Bennyqt" Gonzales also made his presence felt with his gold lane Paquito, catching the contesting RSG PH off guard to purge two while KarlTzy secured the 15-minute lord as they marched to the driver's seat.
Meanwhile, RSG PH seemed poised to redeem their yesterday's matchup against the TNC Pro Team, opening game one by leading as much as 3200 in the gold department, courtesy of Nathanael "Nathz" Estrologo's Esmeralda rotation.
RSG may have captured the early gold momentum, but not for long.
Tristan "YAWI" Cabrera played the role of the unsung hero all game long, engineering a tough environment for RSG PH with his debuff-disabling Diggie that buoyed the orcas in countering the team fight-oriented draft of RSG PH.
Game Two came out to be a lopsided story for ECHO as the "superteam" ambushed Dylan "Light" Catipon's Jawhead that sealed the fate of the Kingslayers, falling victim once again in the new LAN tournament setup.
KarlTzy and Jankurt Russel "KurtTzy" Matira were named Game 1 and 2 MVPs after finishing their stainless run with 4/0/7 and 6/2/10 KDAs respectively.
On the other hand, Blacklist International finally showed their new shade of black after programming a new code in the battle of champions against Bren Esports, 2-.
Despite early criticisms on his professional career, Kent Xavier "Kevier" Lopez stepped up big in their revival push, leading the offensive haul of the hungry Blacklist in kills and objectives to spoil BREN's early aggression.
Dexter Louise "DEX STAR" Alaba also flaunted his veteran experience as he pulled off key Lolita setups that paved the way for the quintet to spoil Bren's sizzling comeback.
With his confidence slowly building up in the pro scene, Kevier showed flashes of his potential after capturing four kills and seven assists with no deaths, grabbing MVP of Game One.
Trying to clear up their M2 reputation, Bren Esports came back as they maintained control of the opening salvo of Game Two with Vincent Evardome "Joy Boy" de Guzman
Vincent Evardome "Joy Boy" de Guzman then led the charge for the M2 champs and went berserk with his Chou, kicking back the adversary that opened the map for his squad to maintain control in the opening salvo of Game Two.
However, the Filipino sniper Kiel Calvin "OHEB" Soriano with his Beatrix turned the tidal battle to their side after following up to DEX STAR'S three-man stun in the lord pit that gave them a swing with a 5k gold lead.
Edward Jay "EDWARD" Dapadap rose up to the occasion by soaking up 266,801 damage to zone out Bren's backline and jungler for an easy lord take in the 24-minute mark.
After absorbing the majority of the damage, EDWARD bagged the MVP honors as he scratched two kills and 11 assists against two deaths with his rock-hard Uranus.
Furthermore, Omega PH begins to shake off its season jitters after taming the roaring Nexplay EVOS in their El Classico matchup for their second-straight victory.
Early kills from Omega gave Game 1 on their hands as Dean Christian "Raizen" Sumagai spearheaded their aggressive gameplay after grabbing three out of their five early kills.
Omega didn't look back from there as Raizen's jungle emblem Ling thirsted John Paul "H2WO" Salonga's Helcurt for jungle camps and kills and led to a five-man NXPE wipeout in 14:24 after their lord take.
Mariusz Villamero "DONUT" Tan played the hero role for NXPE, forcing a rubber match with his Beatrix after the squad banked on early map control, enough to snatch the MVP with a 4/0/5 KDA.
But Joshua "Ch4knu" Mangilog's intentions with his Chou in Game 3 went on to save his teammates, serving the enemy team to a handicap with his calculated setups in team fights that made Omega sail smoothly to own the decider.
Ch4knu later earned the MVP recognition with 2/2/9 KDA to put Omega on a roll with their second season win to wrap up the night.