CeBOOM! 150k Kakampinks attend Leni-Kiko 2nd rally in Cebu
By Monica Chloe Condrillon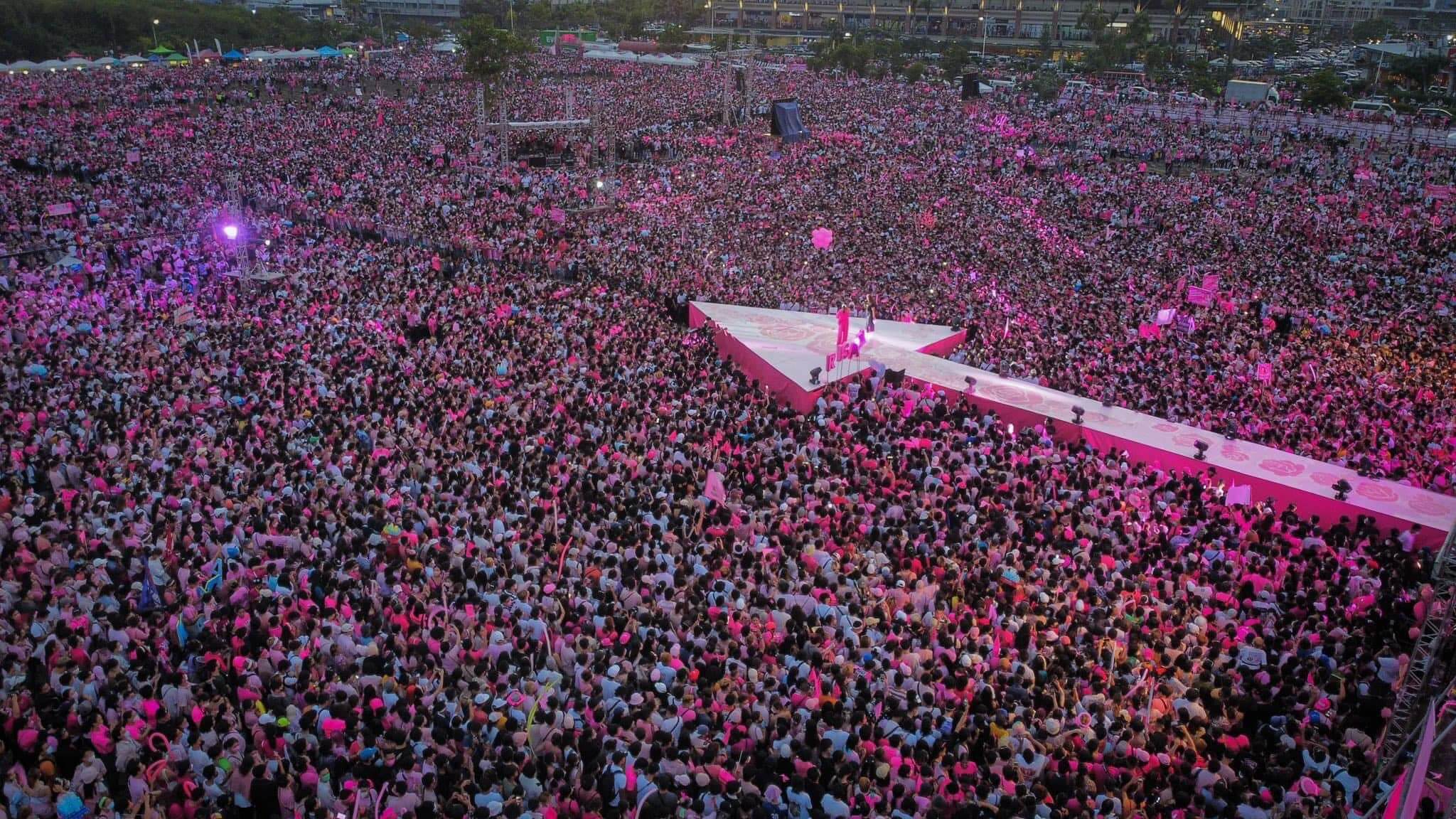 PHOTO: Viva Pinas
"Kakampinks" remained unfazed as an estimated 150,000 Cebuanos stood tall to support Leni Robredo and Kiko Pangilinan's bid for presidency and vice presidency in the upcoming national polls on May 9.
This took place even after Cebu's dominant and Garcia-led political party, One Cebu, backed the opposing UniTeam's Bongbong Marcos and Sara Duterte's tandem last week.
The CeBOOM: Cebu Leni-Kiko Grand People's Rally 2.0 held on April 21 gathered a crowd with a final count of over 150,000 attendees in the eight-hectare Mandaue City North Reclamation Area, according to local Philippine National Police and the event organizers.
Cebu's crowd escalated during the tandem's second rally on the island. It grew from more than 10,000 Kakampinks during the first rally held in University of Southwestern PHINMA last February 24, to a fifteen-fold increase in the recent CeBOOM.
Cebuano supporters also held a Bangkaravan Fluvial Parade for Leni-Kiko that was participated by over 100 bangka led by fisherfolks from Talisay City.
In addition to this, instead of local politicians, the presidential aspirant broke the norm and had her hand raised and endorsed by the citizens, namely fishermen, market vendors, farmers, teachers, and other essential workers.
It was also announced earlier that day that the CeBOOM rally was denied special permits for free transportation buses by the Land Transportation Franchising and Regulatory Board in Central Visayas (LTFRB-7); these buses were supposed to cater those who will be attending the grand rally.
Despite having no local government endorsements, denied volunteer transportation, and doubts sent by opposing teams, Kakampinks proved that their unity and volunteerism could still prevail.
Mini Rallies in Northern Cebu
During the Leni-Kiko tandem's second visit in the country's most vote-rich province, they decided to hit northern Cebu and hold a total of three mini rallies to "hear the sentiments" of Cebuanos there.
"We know some of you cannot make it to Mandaue City. So we're here to listen and be closer to you," Robredo said in Tagalog in one of the mini rallies.
They started their day early as they had their first stop in Bantayan Island and conducted the first mini rally of the day there, dubbing it as "LaBanTayan! Ang Syagit sa Isla! The Bantayan Island People's Rally."
The team then visited the Municipalities of Tabuelan and Tuburan, and then had their second mini rally in Bogo City.
Their final stop before the Grand Rally in Mandaue was at Danao City where they conducted the last mini rally for the day.
It was reported that before proceeding to that rally, they had a closed-door meeting with Mayor Ramon Durano III, his son, a candidate for Cebu governor, Ace Durano, and his running mate and incumbent Vice Gov. Hilario Davide III.
Details of the meeting remain private as of the moment.
It is remembered that the Robredo-Pangilinan slate first visited some parts of Southern Cebu during their first rally in Cebu last February.
Edited by: Phylline Calubayan