Comelec 1st Division junks Marcos' last DQ case due to 'lack of merit'
By Eden Eve Lacea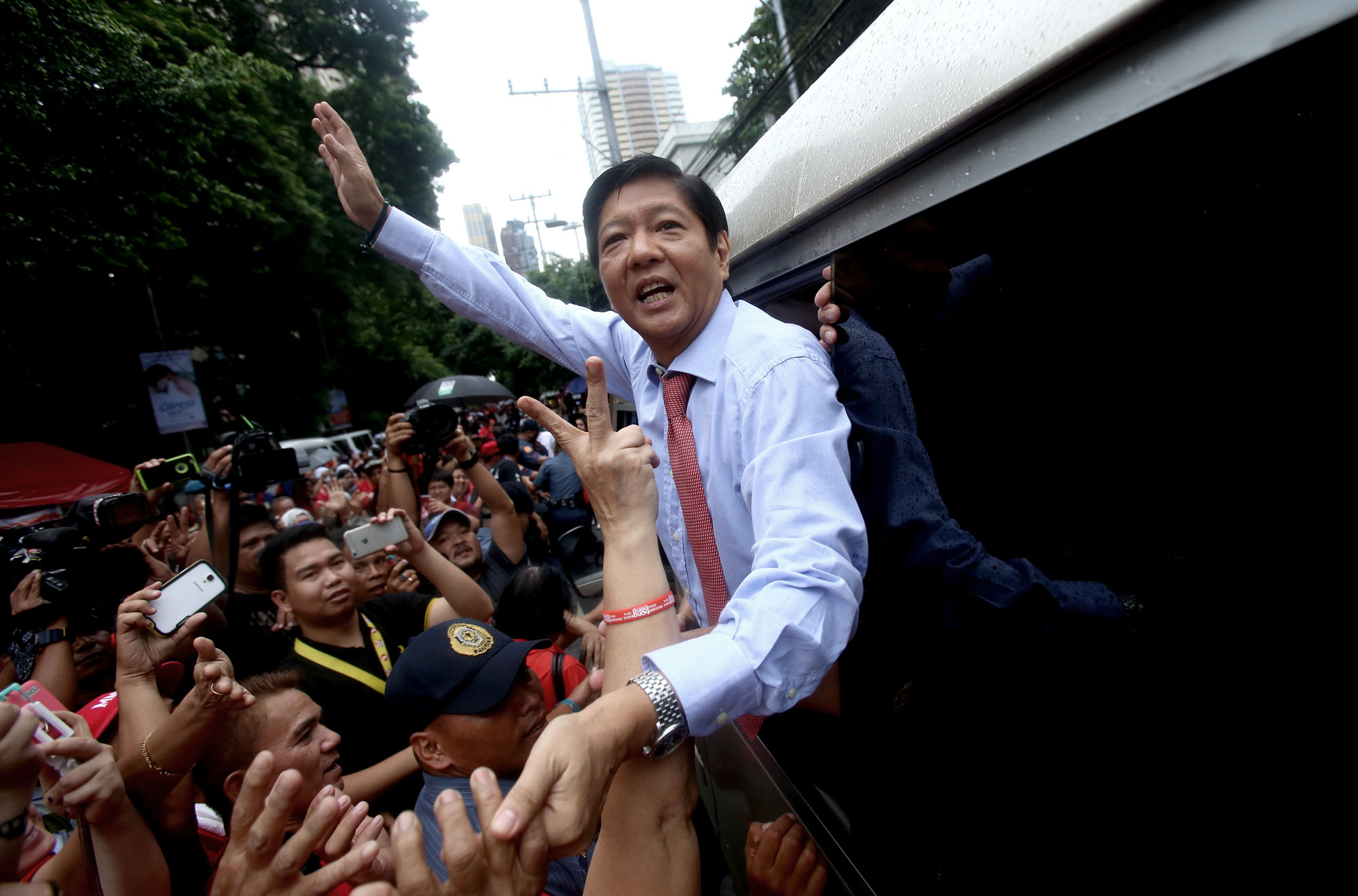 PHOTO: Rappler
Less than three weeks before the national elections on May 9, the Commission on Elections (Comelec) First Division turned down the last active disqualification case against the late dictator's son Ferdinand "Bongbong" Marcos Jr.
In a poll body released to the media on Wednesday, April 20, First Division commissioners Socorro Inting, Aimee Ferolino, and Aimee Torrefranca-Neri unanimously voted to ax the disqualification case filed by "Pudno nga Ilocano" (The Real Ilocano) due to "lack of merit."
The said petition was filed way back December 7, 2021 by Margarita Salonga Salandanan, Crisanto Ducusin Palabay, Mario Flores Ben, Danilo Austria Consumido, Raoul Hafalla Tividad, Nida Mallare Gatchallan, and Nomer Calulot Kuan, who all sought to stop Marcos' presidential race due to his failure in filing income tax returns (ITRs) from 1982-1985 back when he was a vice-governor turned governor of Ilocos Norte.
However, a much prolonged decision was given by the Comelec, even after the petitioners had long since submitted their final arguments in the middle of January, and also formally requested a second follow up last April 8.
"We are not convinced," slammed the Comelec First Division, citing a Supreme Court ruling that Marcos' non-filing of ITR does not tantamount to moral turpitude.
Additionally, the poll body also declared that one's failure to file ITR is not equal to tax evasion.
"Regardless of the fact that the non-filing of ITR was done repeatedly by Marcos Jr., there is still no tax evasion to speak of as no tax was actually intentionally avoided," according to the ruling. "He may have been neglectful in performing this obligation, it however does not reflect moral depravity."
Despite losing the last disqualification case against Marcos, petitioners can still create an appeal to the Comelec en banc.
As of now, there are three ongoing cases against Marcos on the en banc: Lihaylihay vs Marcos (petition to declare nuisance), Buenafe et al vs Marcos (petition to cancel certificate of candidacy), and Ilagan et al vs Marcos, Akbayan et al vs Marcos, Mangelen vs Marcos (consolidated disqualification petition).
Marcos and his camp each shared their statements on the recent Comelec ruling.
While in a campaign in Occidental Mindoro, the presidential candidate expressed his elation on the "good development" of the Comelec ruling, and said that he was happy that the decision was made before the election period.
"It's a good development and we're happy that it happened before the upcoming elections," he said.
His spokesperson, Atty. Vic Rodriguez also shared the same sentiment, quoting that elections are decided through ballots, and not through "nuisance" disqualification petitions.
"As advocated, elections are settled through the ballots on election day – not through the abuse of our judicial processes like the filing of nuisance petitions for disqualification," Atty. Rodriguez stated.
"It is now time for every peace-loving Filipino to work for a clean, honest, credible and fair elections, and allow the people to speak, their voices heard and votes genuinely counted," he added.
Edited by Quian Vencel Galut