The Second Bird in Space: Maya-2 and the Pinoy Space Scientists behind it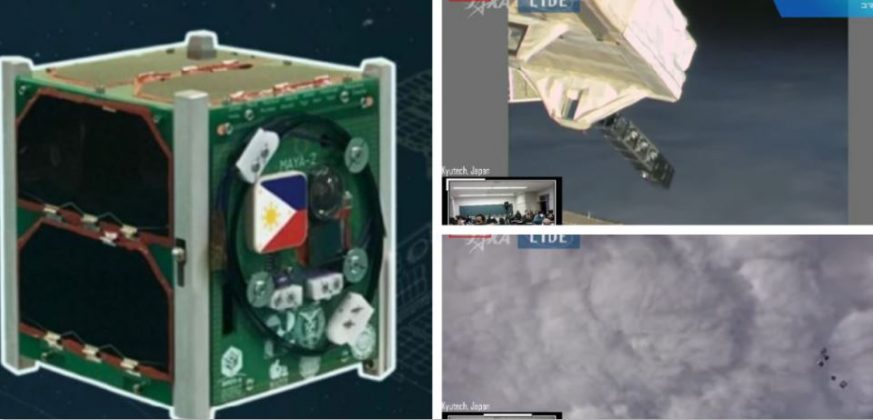 PHOTO: Good News Pilipinas
As the knowledge and time progress, the size of technology shrinks although its capability level increases - stated by one of the engineers of Maya-2, the second Pinoy-made cube satellite launched in February 2021, in a Siyensikat online discussion where its importance and facets were explained to the interested audience.
During the discussion, Pinoy space scientists and Maya-2 engineers briefly explained their developed technology and answered intriguing queries behind the country's second cube satellite in space. The panel of scientists included Dr. Izrael Zenar C. Bautista, Birds-4 project manager, and Engr. Mark Angelo C. Purio and Engr. Marloun P. Sejera, both Birds-4 project members.
Maya-1 and Maya-2, the Philippines' first two cube satellites, are named after the chestnut munia, a locally known bird in the Philippines, in comparison to satellites that fly in space and serve as our eye above everything. Unlike larger satellites, these are known as nanosatellites, which enabled Filipino scientists to develop such technology without spending a large cost. Despite its small size, it has the same capabilities as larger ones, allowing Filipino scientists to take small steps as they begin to explore satellites, as explained by Dr. Bautista.
Do you wonder how these nanosatellites are protected from large materials in space? Engr. Sejera explained that the satellite's components were initially checked to ensure that they could withstand the harsh environment of space by conducting tests on the technology and subjecting it to conditions similar to those found in space, such as extreme temperature and vacuum conditions. In addition, he shared that the glass seen on the cube satellite is a solar panel board that captures energy from the sun and stores it in its battery so that it can continue to operate during an eclipse, when the sun is unable to reach the satellite.
Engr. Purio also explained that satellites help us see things that normal people on the ground cannot monitor because satellites can capture huge images like our planet Earth to obtain data and unmeasurable parameters necessary for daily predictions.
The sectors that significantly benefit from the satellites are disaster and risk management and agriculture. Especially in the Philippines, where frequent calamities or hazardous weather occur, satellites can assist us in measuring and obtaining datus to predict and prepare for the weather rather than requesting data from different countries with satellites. On the other hand, using satellite data makes agriculture more efficient and the planting process safer.
One of Maya-2's missions in its recently completed 16-month quest is to provide photos of various involved countries by sending a command to the satellite to capture a photo. This command necessitates the use of radio frequency signals, specifically UHF and amateur frequency.
During the COVID-19 pandemic in the Philippines, satellite data can be used to map the extent of the pandemic by, for example, utilizing it for the COVID-19 Pace Data website, which can monitor updated COVID cases across the country and oversee the spread and extent.
Pinoy scientists as beginners in satellite discovery, the DOST with the help of the stamina space program, aims to develop and train Filipino engineers and scientists in the field. Building technology from a smaller scale while increasing the number of professionals in the field will enable us to proliferate a much larger and higher-level satellite in the future.
They have proven that the country can progress to the highest levels of science and technology, even if it is as small as a cube and as efficient as the bird it was named after, to foster a progressing and siyensayang life.
Siyensikat is a program of the Department of Science and Technology (DOST) that aims to answer questions about science. With Jiego Reyes serving as host, the wishers or the interested students were Jayson Machiavell M. Calumpong, Jaychelle Miranda M. Calumpong, Sofia Abigail Valeroso, and Lucas Joaquin Veleroso, who were curious about what satellites are and why they exist.